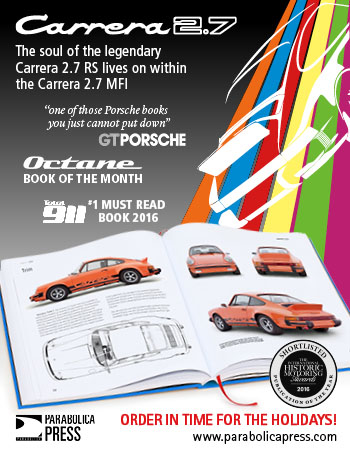 Immediately after the legendary 1973 Carrera 2.7 RS finished production a series of Carreras were built for the rest-of-world markets that were equivalent to the 1973 RS Touring (M472) models. This rare and desirabled Porsche was the G-series Carrera 2.7 MFI which was fitted with the 911/83 RS-spec mechanically fuel injected (MFI) engine that produced 210 bhp. The major difference between these Carreras and the Touring Carrera RS was that the MFI variation was built with the "G-series" impact bumper body and interior instead of the earlier long hood form. The weight of the Carrera 2.7 MFI was also 1075 kg, identical to that of the preceding Carrera RS Touring. All 1974 Carrera MFI cars either came with a ducktail or tail delete, while 1975 and later Carrera MFI either came with the whale tail or tail delete.
What makes the early 911s, Carrera RS, and the 2.7-liter "euro" Carrera so interesting and thrilling to drive is the Bosch Mechanical Fuel Injection (MFI) setup. The glorious sound and instantaneous throttle response has a remarkable feel compared to the computerized injection systems of the 70s and 80s. In the December 1974 issue of Motor magazine the Carrera 2.7 MFI was extensively tested and they measured a 0-60 mph time of 5.5 seconds.
Porsche built similar number of coupes to the 1973 Carrera 2.7 RS with roughly 1,011 in 1974; 509 in 1975; and 113 of the German-only Sondermodell in 1976. A total production of 1,633 as compared to 1,590 1973 RS built. Additionally Porsche built 631 Targa versions of the Carrera 2.7 MFI between 1974 and 1976, including 20 in 1976 for the Belgium police.
These cars were never imported by Porsche into North America. The strict US emissions laws required smog equipment that drastically impacted the performance of the 2.7-liter motor. The US version of the Carrera in 1974-1975 used the significantly less powerful CIS (K-Jetronic) based injection engines to meet the California and US emission standards.
The 1976 Carrera 2.7 MFI was the last street car Porsche ever produced with mechanical fuel injection. In fact there were only three MFI based cars produced by Porsche after 1976, all race cars. First were the ten turbocharged Porsche 934 ½ built for Group 4 and the 1977 IMSA Championship, alongside the various incarnations of the turbocharged Porsche 935 built for Group 5 and, later, the twenty 3.0-liter 911 SC/RS (954) rally cars built in 1984 to compete in Group B.
Porsche® is a registered mark of Dr. Ing. h.c. F. Porsche AG and is used on this website for identification purposes only.